Axle Repairs in Salford
Posted on by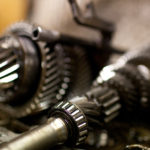 Our axle repairs in Salford are reasonable priced and professionally accomplished.  The axles of a vehicle are connected by the differential. This is what allows the car to turn smoothly. Without the differential the vehicle could not turn corners. The prop shaft is connected to the differential to provide power to the wheels. When you turn a corner the outside wheel needs to go faster than the inside one and this is why a diff is so important. There are a number of different types of differential and we can repair all of them.
If you hear a noise from the car when turning a corner but not when driving straight it may be that your vehicle needs to be checked. In Salford, axle repairs can be swiftly and competently carried out. There are many different noises that a worn or faulty diff can make and it should not be left but should be brought in for inspection. As the diff is usually made up of gears they can wear just like in a gearbox.  Any whining, whirring or rumbling noise is an indication that something is not right with the vehicle. Finding a problem early is often less expensive than hoping it will go away.
We carry out axle repair in Salford. Contact Tameside Transmissions today and arrange to have you vehicle repaired by our highly qualified technicians. We have over 23 years of experience in repairing clutches, gearboxes and all parts of the transmission including the axles. We have recently added 4 new ramps to accommodate our growing customer base. We can offer same day clutch and gearbox return on most makes and models of vehicles. If your vehicle cannot be driven we can collect it for a small cost. All our reconditioned clutches and gearboxes come with a full 12 month plus warranty. Our technicians have all worked for the company for a minimum of 15 years. We are so proficient that we supply gearboxes to garages all over the UK. We repair both manual and automatic gearboxes for all makes and models of cars and trucks.